Tuesday, December 8th, 2009
---
8:54 pm
- I Don't Even Know
Monday, March 10th, 2008
---
7:44 pm
- Icon MEME
From
damselfly27

1. Reply to this post, and I will pick seven [or as much as you want] of your icons.
2. Make a post (including the meme info) and talk about the icons I chose.
3. Other people can then comment to you and make their own posts.
4. This will create a never-ending cycle of icon squee.



(

Read more...Collapse

)
Sunday, November 25th, 2007
---
12:07 pm
- Someone Tell Me To Stop
Someone needs to tell me to back away from the Tokio Hotel. Like now.

Why, oh why, did I have to TIVO the EMA's? I just wanted my very own, huge copy of MCR and Dave Grohl and Teenagers to watch again and again and I ended up with the English version of Monsoon, as well. And a very wet Bill Kaulitz. A very pretty, very young, very lanky Bill Kaulitz.

There followed much YouTube-ing and surfing and music downloading. You know, like you do.

Now Monsoon is stuck in my head and Spring Nicht and Schrei. And there's twin-cest out there. Ok, they're legal now, yeah, so that's at least one good thing, but they're barely legal and their music is like the German bastard child of N-Synch and Busted or something, but it's still really hook-y and it sticks with you and makes you hum it randomly until you catch yourself and make the "d'oh" face while you're trying to look professional at work.

That's not really important since I already lost all of the music cred I had at work when I got caught humming "Guilty Pleasure", but that's ok because it's now in rotation on the kitchen mix CD and I didn't put it there, so I feel a little vindicated. It's called "Guilty Pleasure" for a reason, am I right?

Long story short, I don't need to get dragged into the Tokio Hotel fandom and to date had no interest in it at all. It's amazing what one live performance, 270 litres of water and being 18 will do for a band-boy.

And
galor5, I still love this icon like an icon loving thing. Thank you so much for making it. It was perfect then and it's still perfect.
Friday, June 29th, 2007
---
8:35 pm
- What You Gonna Do.....
When Hulkamania breaks up with you?!

current mood: O_o
Friday, October 27th, 2006
---
2:01 am
- My Chem - Chicago House of Blues
Mel and I just got back from the My Chem show in Chicago. Mel is crashed on the couch and I'm still wired to the teeth.

I think that may have been the longest, coldest, wettest day that I've ever had. I spent at least 14 hours, cold and damp and at the end of it all, I can honestly say that it was well worth the discomfort.

We got to HOB around 7am and spent the best part of that hour trying to look like we weren't loitering, all the while trying to creep closer and closer to where ever it was that seemed like that place to be. At 8am there was a mad dash to line up between the wall and metal railing. We stood like cattle in a pen, no room to move, for about 30 minutes and then got our wrist bands.

From 8am to 2pm, we wandered the several blocks around HOB. We spent an hour here and an hour there, always buying something so that we weren't just hanging about. From 8am on there was a pretty steady misting rain that just sort of soaked through everything you were wearing.

Around 2pm we went back to HOB to TRY and line up to get tickets. It was a mob. Seriously. No one would tell us where we needed to be and security chased us all away after several false rushes. We managed to be in the right place at the right time and ended up about 150 back in the ticket line. After buying the tickets, we were told to circle back to the end up the line to start the real line-up. This is good since we were still in the top 200 people lined up.

More misting rain and snarky, irritable people. It was cold and I was starting to doubt my sanity. I was also questioning my ability to carry off the whole thing, at my age.

More rain and harder. Joy. After standing there another three hours, we thought we were finally going to be let it. No dice. They were 30 minutes late opening the doors. All the while the crowd was steadily becoming more unstable. I don't envy the guys that worked security.

They finally let us in, searched up, scanned our tickets and we walked up the steps. I lost Mel for a second and then heard her yell for me. I saw her and then looked behind her. She was on the floor. My God, the place is tiny. My first thought was, omg, we're only five back and they're going to be right there. I glanced around and there really wasn't a bad spot in the place, but we were RIGHT there.

The show should have started at 7pm but didn't. Not a shocker, considering the day we'd already had. When they finally did get the opening band up there(I can't even remember their name), it was some sort of thrash/speed metal and the crowd on the floor just went nuts. It wasn't that they were moshing. That we could have dealt with. It was the waves of shoving and pushing. Not forward. I could deal with that too. You know what to expect. This was a freaky, unpredictable lurching. We'd get pushed back, sideways and forwards and footing just wasn't there. After about three songs, Mel and I were both worried about going down so we moved to the back of the floor, which still couldn't have been but 20 feet from the barrier.

Surprise. We could actually SEE back there. We couldn't see a thing close to the stage.

The opening band finished and they started setting up for MCR. I don't think I really got that buzz of excitement until the lights went down and the curtain came back up. I didn't know if it was going to happen. We were all so tired and I was still soaked to the skin.

After the first few notes I knew that it was all worth it. Everything. I spent more than an hour screaming my heart out, jumping around like an idiot and clutching Mel's hand.

They were amazing. They sounded clean and polished and were all so on. Gerard practically made love to the crowd(at one point someone threw him a black, feather boa and he grabbed it and shook it around and said, "this is just gorgeous!" and then he proceeded to wear it for several songs), Frank flailed and spit like nobody's business. Mikey was all over the stage. Bob was perched up on a high platform and was awe inspiring. I couldn't see much of Ray but when I did manage to see him through the crowd, he was rocking out.

I can't remember the set list in order but they did Dead, Our Lady of Sorrows, Not OK, Prison, Mama, House of Wolves, Famous Last Words, and finished with Cancer and Helena. I think that I've missed a few but I'm so beat right now.

I came out of there feeling like I could take on the world. I think my exact words to Mel were, "that's good for whatever ails you. We need to do this more often."

Seriously, completely worth the day of misery and I'd do it again. I don't think we're going to get many more chances to see them in such a small venue and I feel lucky to have been able to go.

I'll squee about this more later when I can think clearly.
Friday, October 20th, 2006
---
3:20 am
- My Chemical Romance - AOL Sessions
Just reposting new download links here. Originally, they were ripped by
rewak. Thank you for that.

It's amazing to me how much their live sound has improved. Both Gerard and Ray's vocals have gotten so much stronger. I was always a fan of them live, but this is just over the top good. SendSpace links are under the cut.



(

Read more...Collapse

)
Saturday, October 14th, 2006
---
10:53 pm
- Bring the Crack
So, if anyone were to happen to feel like writing me some Gerard Way/Jason Mewes, that would be just peachy. See, one of my friends mentioned loving the Jersey accents and now I can't seem to get it out of my head. I don't care how they're written; they can be friends, more than friends or arch enemies. I just need to see the two of them together because, somehow, I think that it would be like comedy gold. The more I think about it, the more I like the idea of them snarking and cracking on each other. Yeah. You know what I mean. I can just hear them now, talking about how biblical something was.

current mood: Cracked Out
Thursday, September 7th, 2006
---
1:20 pm
- Interest MEME....thing
It's huge. It's behind a cut. I couldn't even figure out what half of my own interests were with some of the crap it was pulling up for me.



(

Read more...Collapse

)
Sunday, September 3rd, 2006
---
12:27 am
I've been listening to the studio recording of MCR's "Welcome to the Black Parade" off and on all night and I've finally put my finger on what it reminds me of. It sounds like fricking Les Miserables! They're really going out on a limb here and I love them for it. Right now I'm thinking there's no way they can be accused of being a sell-out. Sure, it's not what people are going to be looking for and I doubt that it'll get a lot of mainstream airplay, but I don't care. It's going to be a while before I can get this one out of my head, if I ever do.
Friday, September 1st, 2006
---
12:07 pm
- Fandom Squee
Am I the only one going completely batshit crazy over the new explosion of MCR available in the last week and especially in the last 24 hours?

Those uniforms were always ok with me but actually seeing them perform in them on the VMA's? Yeah, they've sold me on the whole marching band look.

And bless Frank. I was looking at some images and noticed that he's actually wearing a hoodie under his jacket. Must have been before of after the performance because I could have sworn he had a black button down on. Yeah, I'll just wear this thing with the zipper and the hood underneath. It'll be great. But kill me with the eyes, why don't you, Frank? And Ray? You look more and more like an angel every day.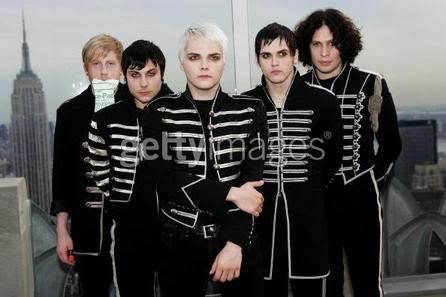 (
Read more...
Collapse
)
Sunday, July 30th, 2006
---
3:26 am
My apologies to the six-pack(Gayla, Ely, Clare, Sarah, Marge and Mel) for my lack of communication skills. Right now I don't have the energy or the will to keep up with very much. I keep hoping that it will get better and it doesn't seen to be. I'll just keep going. Hope to catch up with you all soon.

Marge, I got your CD last week and haven't been able to listen to it yet. I'm going to get around to that Tuesday or Wednesday. Thank you for always thinking of me; you have to be one of the sweetest women on the planet.

Clare, my li'l buttercup, I hope to catch you on IM some time this week. I'm going to make an effort to start chatting again.

Sarah, I need to call you and catch up again. I must have the latest dish and see what's down with you.

Gayla and Ely, I'm feeling totally out of touch with both of you and haven't talked to you in ages.

Mel, thank you for keeping me updated on LJ, since I haven't been taking the time to LJ, myself. I never thought I'd see the day that I didn't check LJ constantly. I'm loving all of the new MCR gossip and can't wait to see what comes of it. Keep your chin up. That MEME got me thinking.
My days off are changing this week, if I manage to get days off. I'm feeling your pain, Mel.

I had three cooks quit today, for various reasons and had a little panic attack at work. I came home, had three wine coolers and I'm going to crash since I have to be up at 5am.

I miss you all, although it may not seem that way. Please don't hate me for dropping off the radar.
Friday, April 14th, 2006
---
5:06 pm
- My Music MEME
Thursday, March 30th, 2006
---
6:28 pm
- Happy Birthday!
Happy birthday
bunnysummers!

Marge, have the best birthday ever!

Your friendship, kind words, thoughts and gifts mean so much to me and I wish that there were more that I could do in return.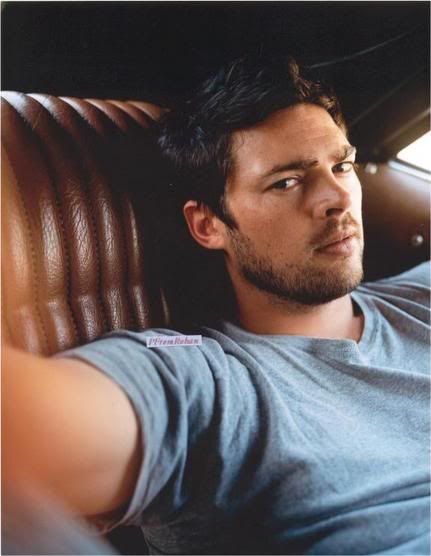 Wednesday, March 22nd, 2006
---
9:29 pm
- Happy Birthday Gayla!
Best wishes to
galor5 on her birthday!


Gayla, your friendship has been a blessing. You offer me so much support and are so generous with your time and talents. Thank you for keeping me around.
7:42 am
- Atomic Fic Challenge and yeahchemical Issues Challenge
This was written to fill the requirements for two different challenges. I apologise whole-heartedly to
apple_pi for not meeting the deadline for Atomic Fic.

Title: "You Don't Have To Do This Alone"
Author: plinkin
Fandom: My Chemical Romance
Pairing: A tiny bit of Frank/Gerard, Frank-centric
Rating: PG
Summary: Frank has a problem.
Content/Warning: AU
Disclaimer: I don't own them, only the ideas.
Author's Notes: Written for the yeahchemical Issues Challenge. The prompt was phobias. Also written for the Atomic Fic challenge. Prompt: Listen to me now...I need to let you know...You don't have to go it alone. The song is "Sometimes You Can't Make It on Your Own." 1917 words that may be continued, because I enjoyed this. Man, was it ever hard to shake off the MonaBoyd and try something new.




(

Read more...Collapse

)
Friday, March 17th, 2006
---
6:27 pm
- Oh Shit, Son!
So, I have Life on the Murder Scene in my hot little hands; I'm not sure why I have it now, since I didn't think that the release date was until the 21st. Still, I'm sitting here looking at it and it was a nice surprise. It came with an autographed booklet and I'm having to sit on my hands not open the DVD and watch it right now.

If I die of the squee, someone hide my porn. I'm sorry Sarah; I stole that. I couldn't help it, you know?
Wednesday, March 15th, 2006
---
9:28 pm
- You Know
Sam Adams Cream Stout goes surprisingly well with feta cheese. Who knew?
Tuesday, March 7th, 2006
---
1:42 pm
- Making Faces Like A Trained Monkey
It's amazing the things that you'll do for friends. I got all dolled up for a coffee date that didn't happen; my hair was behaving for a change. What ended up happening was me being talked into taking cheesy, My Space-style pics for chat buddies. Oh, the humanity. Apparently I can't take a picture of myself without making a funny face. You were warned. Also, I don't seem to be able to hold the camera steady on my own. Yay for blurry pictures and spotted bathroom mirrors. Guess I shoulda used some Windex first?



(

Read more...Collapse

)



current mood: Very Silly
Thursday, March 2nd, 2006
---
6:50 pm
- I Need Help. That's a Given, Yeah?
So, I'm looking for that scrolling text icon maker that everyone was using a few months back. The link to it is here somewhere in my bookmarks, but that's not helping me out much right about now. Anyone want to come arrange my bookmarks for me? I made folders, I swear. Somehow I just can't find the energy to start going through them and actually putting them into the folders. Right now, it takes me about a minute and thirty seconds to scan down the list. I know. It's pitiful. Am in need of a spanking.

Anyway, if someone has the link for that icon maker, it would be much appreciated.
Tuesday, February 21st, 2006
---
3:33 pm
- Yay For New Hair!
With a little support and encouragement from friends, I finally took the plunge and bleached out a section of hair and then colored it. The results are not perfect, but make me want to do more and in more colors.

Before and after pics behind the cut.



(

Read more...Collapse

)